SUPERIOR BLUE BAY BEACH VILLA
Our SUPERIOR BLUE BAY BEACH VILLA is the villa closest to the beach in Blue Bay. Only a few steps from the villa to the beach. The villa has recently be completely renovated and refurbished, everything is brand new. The veranda of the villa is nicely situated amidst the tropical garden.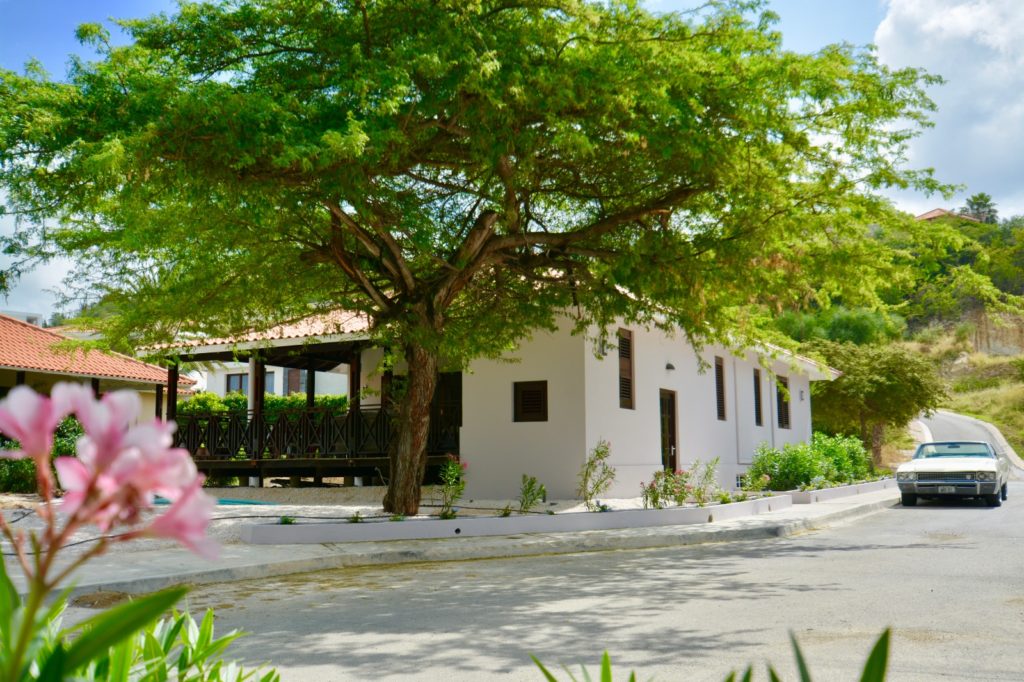 Our Superior Beach Villa is ideal for larger families or groups.
We fight Mosquitoes 🦟 so you can sit at ease on your patio! All villas are equipped with the Biogents mosquito trap.
The space
Blue Bay is a fully gated Golf and Beach Resort with 24h security. It is child-friendly and very safe. Our guests will have full access to all Blue Bay facilities including the beach with sunbeds and gazebos, pool, restaurants, bars, dive center, golf, tennis, and gym (cross-fit, yoga, etc.).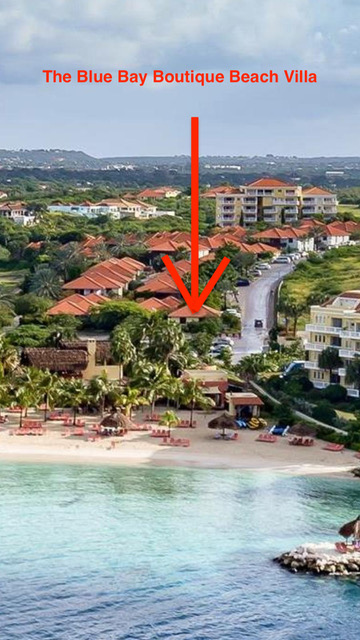 Contrary to the other villas in Blue Bay we offer many extras at no additional cost. As an extra and only for guests of our Boutique Beach Villa we provide the following services and accessories free of charge:
V.I.P. services:
* Early check-in, if possible
* Late check-out, if possible
* Please note that storage of suitcases is always possible as well as the late return of beach passes and beach towels
In our V.I.P. Villas we provide:
* Three times the WiFi speed as other villas through a fiber optic cable
* Apple TV and Netflix
* Silent inverter air conditioners in all bedrooms and living room (!)
* Cooling fans and atmospheric lighting at the veranda
* European 220V and American 110V outlets and various adapters
* Curaçao travel and dive guides and activities flyers
* Our personal list of favorite beaches, beach clubs, restaurants, etc.
* Several board games, playing cards, and a small library
* Pack and play (2) and wooden baby chair (2)
In our fully equipped kitchens we provide:
* Ice cold beers and non-alcoholic refreshment upon arrival
* Full set of olive oil, balsamico, sugar, spices, etc. for your cooking use
* Detergents, foils, Ziplocs and trash bags
* Nespresso and American coffee machine plus coffee for the first few days
* Refrigerator with freezer, induction stove, microwave, oven/grill, cooker, blender, toaster
* WEBER GAS BBQ
In our bathrooms we also provide:
* Beach towels
* Bath towels and bath mats
* Hairdryer
* Shampoo, conditioner, shower gel, and handsoap
In our storage rooms we also provide:
* Washing machine plus detergent and fabric softener
* Coolbox to take to the beaches
* Beach toys, snorkel sets, and inflatables for kids
We also offer sports gear for our villas to share:
* Golf sets and balls, free of charge upon availability
* Tennis rackets and balls, free of charge upon availability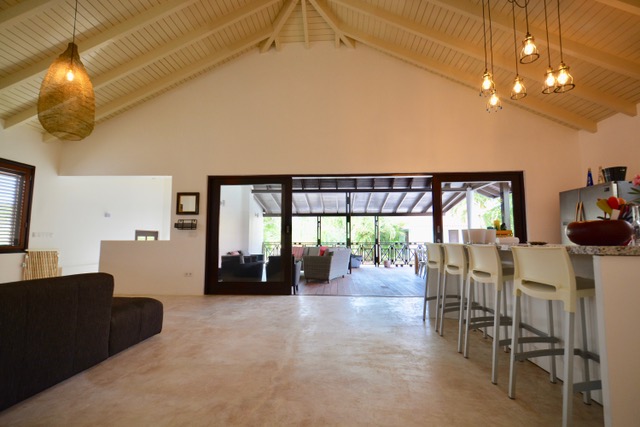 Other things to note
At check-in, we ask for a fully refundable cash deposit of USD 250 (deposit for beach passes and damage protection).
We think the economic use of energy and water is important. That is why we chose to make energy and water an additional cost. The energy consumption of the inverter air conditioners, refrigerator, and other equipment in the villa is low. Only air conditioning could lead to higher energy consumption. The average costs are about USD 100 per week. Based on meter readings and the actual rates of the utility companies we will settle the amount at the end of your stay (at your option in ANG / USD / EUR).
Bluebay Golf and Beach Resort in Curacao Caribbean is a resort for holiday the perfect ocean encounter close to the beach and bayside hotel. beach resort in curacao the Caribbean. diving is great to scuba dive and to see the cristal clear water and the tropical fish. The ABC Island in the Caribbean are part of The Netherlands and Aruba and Bonaire are part of it as well. The lodges and the hill, also triple tree are accommodations in Blue Bay Curacao close to Willemstad in Curacao also called the antills en de antillen waar we chillen as well as the Garden and the ocean and the shore, are all close by the restaurant azzuro and the landhuis Blauw are within the golf resort The hotel is good as well as the villas and the apartments and the hotel rooms. you come for your holiday and vakantie. je vliegt met KLM of TUI of met American Airlines naar de antillen. Blue Bay is dicht bij Piscadera maar ook mambo beach en livingstone en Moreno resort. Golfen doe je in dit golf resort. Boeken kan met Airbnb en Micasu of met Booking.com of hotels.com zelfs bij vbro.com of bij tripadvisor zit je goed op de antillen curacao www.bluebaybeachvilla.com zijn wij! www.bluebay-realestate.com www.bluebay-curacao.com Curacao Aruba en Bonaire Bluebay Golf and Beach Resort in Curacao Caribbean is a resort for holiday the perfect ocean encounter close to the beach and bayside hotel. beach resort in curacao the Caribbean. diving is great to scuba dive and to see the cristal clear water and the tropical fish. The ABC Island in the Caribbean are part of The Netherlands and Aruba and Bonaire are part of it as well. The lodges and the hill, also triple tree are accommodations in Blue Bay Curacao close to Willemstad in Curacao also called the antills en de antillen waar we chillen as well as the Garden and the ocean and the shore, are all close by the restaurant azzuro and the landhuis Blauw are within the golf resort The hotel is good as well as the villas and the apartments and the hotel rooms. you come for your holiday and vakantie. je vliegt met KLM of TUI of met American Airlines naar de antillen. Blue Bay is dicht bij Piscadera maar ook mambo beach en livingstone en Moreno resort. Golfen doe je in dit golf resort. Boeken kan met Airbnb en Micasu of met Booking.com of hotels.com zelfs bij vbro.com of bij tripadvisor zit je goed op de antillen curacao www.bluebaybeachvilla.com zijn wij! www.bluebay-realestate.com www.bluebay-curacao.com Curacao Aruba en BonaireBluebay Golf and Beach Resort in Curacao Caribbean is a resort for holiday the perfect ocean encounter close to the beach and bayside hotel. beach resort in curacao the Caribbean. diving is great to scuba dive and to see the cristal clear water and the tropical fish. The ABC Island in the Caribbean are part of The Netherlands and Aruba and Bonaire are part of it as well. The lodges and the hill, also triple tree are accommodations in Blue Bay Curacao close to Willemstad in Curacao also called the antills en de antillen waar we chillen as well as the Garden and the ocean and the shore, are all close by the restaurant azzuro and the landhuis Blauw are within the golf resort The hotel is good as well as the villas and the apartments and the hotel rooms. you come for your holiday and vakantie. je vliegt met KLM of TUI of met American Airlines naar de antillen. Blue Bay is dicht bij Piscadera maar ook mambo beach en livingstone en Moreno resort. Golfen doe je in dit golf resort. Boeken kan met Airbnb en Micasu of met Booking.com of hotels.com zelfs bij vbro.com of bij tripadvisor zit je goed op de antillen curacao www.bluebaybeachvilla.com zijn wij! www.bluebay-realestate.com www.bluebay-curacao.com Curacao Aruba en BonaireBluebay Golf and Beach Resort in Curacao Caribbean is a resort for holiday the perfect ocean encounter close to the beach and bayside hotel. beach resort in curacao the Caribbean. diving is great to scuba dive and to see the cristal clear water and the tropical fish. The ABC Island in the Caribbean are part of The Netherlands and Aruba and Bonaire are part of it as well. The lodges and the hill, also triple tree are accommodations in Blue Bay Curacao close to Willemstad in Curacao also called the antills en de antillen waar we chillen as well as the Garden and the ocean and the shore, are all close by the restaurant azzuro and the landhuis Blauw are within the golf resort The hotel is good as well as the villas and the apartments and the hotel rooms. you come for your holiday and vakantie. je vliegt met KLM of TUI of met American Airlines naar de antillen. Blue Bay is dicht bij Piscadera maar ook mambo beach en livingstone en Moreno resort. Golfen doe je in dit golf resort. Boeken kan met Airbnb en Micasu of met Booking.com of hotels.com zelfs bij vbro.com of bij tripadvisor zit je goed op de antillen curacao www.bluebaybeachvilla.com zijn wij! www.bluebay-realestate.com www.bluebay-curacao.com Curacao Aruba en Bonaire. Bluebay golf and beach resort and Bluebay realty zowel als de villa bluebay villa en blue bay villa zitten in Blue bay plantage blauw. Blauwbaai ook wel Blauw baai is het zelfde als Bluebay golf and beach resort of de village in bluebay curacao. The village of wel de blue bay beach villa of villa's zijn onderdeel van bluebay. Je kan de villas en apartementen of villa boeken. Book now! de village in bluebay heeft villa's ook wel villa of villas dit is allemaal op Bluebay golf and beach resort. waar je ook kan duiken ofwel "blue bay dive" of "blue bay real estate "www.bluebay-realestate.com" of "bluebay-realestate" "Blue Bay Curaçao Golf & Beach Resort, Apartments and Villas" of "Blue Bay Curaçao Golf & Beach Resort" en dan "Apartments and Villas" Bluebay Village Village en "bluebayvillage" "Blue bay village" "bluebay village" Blue-bay-village